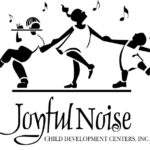 Website Joyful Noise Child Development Center
NAEYC-accredited Joyful Noise Child Development Center has immediate openings for dedicated, energetic teachers across all age groups, as well as support positions and subsitute teachers. We are following all Covid-19 health and safety guidelines as outlined by the Early Learning Division, including daily health checks and stringent cleaning and sanitation procedures. Candidates must be local. Pay is dependent on level of education and starting position.
As an employee of Joyful Noise, you can expect a higher than industry average annual wage, dependent on education and position within the organization. Full-time positions are eligible for benefits, including medical, vision, dental, paid vacation and holidays (including your birthday!) and a discounted TriMet pass. We are also continually seeking positive, hardworking substitute teachers and support staff to be a part of our organization, with the potential to move into permanent teaching positions.
Joyful Noise has four distinguished centers in the Portland area. We are committed to providing high-quality programming for young children and their families. Our ultimate goal is to convey significant, positive and lasting benefits to the life of a child. Professional, caring teachers are essential to us reaching this goal! We are seeking people who demonstrate interpersonal skills, are comfortable with team teaching, and have a devotion to providing quality programming and environments for children. Joyful Noise is philosophically rooted in constructivism with a strong commitment to anti-bias development, Positive Behavior Interventions & Supports (PBIS), the RIE approach and Reggio Emilia. As a Joyful Noise staff member, you will feel appreciated, valued and respected. Previous classroom experience in an early childhood setting, familiarity with NAEYC, emergent curriculum, and project work documentation are strongly desired.
To be considered for an interview, please send a resume and a cover letter summarizing your experience with young children, educational background, and why you think you are a good fit for our organization. Applicants should also be registered in the Oregon Central Background Registry. All our centers are located on the MAX line. We encourage people of all race, gender, and sexual orientation to apply.
To learn more about our organization visit our website at www.joyfulnoisecdc.org.
Pay: $16.59 – $23.14 per hour dependent on education level and position hired for