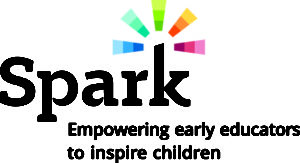 Child Care Resource & Referral of Multnomah County SPARK (QRIS) Support
How We Can Help:
Support to complete your portfolio
Staff handbooks
Family handbooks
Observation and assessment info: ASQ, CLASS, Rating Scales-FCCERS, ECCERS
Information and resources on adult-child interactions, CLASS
Community resources on health, mental health, children with disabilities, social services, educational resources, etc.
Staff training to meet QRIS personnel qualification requirements
Training focused on portfolio building (all Set 2 hours in PM)

Completing Your Program's Quality Improvement Plan
Portfolio Building: Writing Statement of Your Program's Philosophy
Portfolio Building: Family Partnerships
Portfolio Building: Health & Safety
Portfolio Building: Administration & Business Practices with One Employee
Portfolio Building: Administration & Business Practices with Multiple Employees

Program visits
Work sessions
Assistance with getting yourself or your staff on the Oregon Registry
General questions
SPARK (QRIS) Contact Information

Winnie Cheung

503-491-6226

wyn.cheung@mhcc.edu

Debbie Buta

503-491-6216

debbie.buta@mhcc.edu

Hadiyah Miller

503-491-6221

hadiyah.miller@mhcc.edu

For Spanish: Esther Horta

503-491-6208

esther.horta@mhcc.edu

For Russian: Lena Hennegan

503-491-6211

lena.hennegan@mhcc.edu

SPARK Team

503-491-6234

QRIS@mhcc.edu
For general information and updates on the QRIS, contact:
The Teaching Research Institute at
Western Oregon University (TRI/WOU)
877-768-8290
http://triwou/projects/qris
Online Resource
Need something more? Ask us!