In response to the COVID-19 public health emergency, CCR&R is unable to offer in-person trainings at this time. You may take the free, independent, on-line class to receive credit.
This is a required training all providers working in licensed facilities and homes, as well as in-home, license exempt providers paid through DHS subsidy (ERDC/JOBS).
Child care and education providers are among those persons who are mandatory reporters of suspected incidents of child abuse and neglect in the state of Oregon. Participants will learn the process for reporting incidents of child abuse or neglect when there is reasonable cause to believe it has occurred. Set One; CKC: Health, Safety, and Nutrition
There are three ways to complete the required RRCAN training:
Take the class in-person with CCR&R-MC
See class schedule and registration form below. This class is FREE.
Address: MHCC Maywood campus, 10100 NE Prescott St, Portland, OR 97220
Take Online Independently
Take the training on-line at your convenience, whenever you like. Expect to spend 2-3 hours completing the training. This training is free on-line.
Go to: http://campus.educadium.com/OCCD/
Take Online with Support at CCR&R-MC
CCR&R-MC has computers available at our office for educators' use. Please call 503-491-6205 to make an appointment for computer assistance with on-line training.
Please note: we can help you with computer skills and help you begin the on-line class, but are not able to assist with the training quiz.
Information on in-person classes: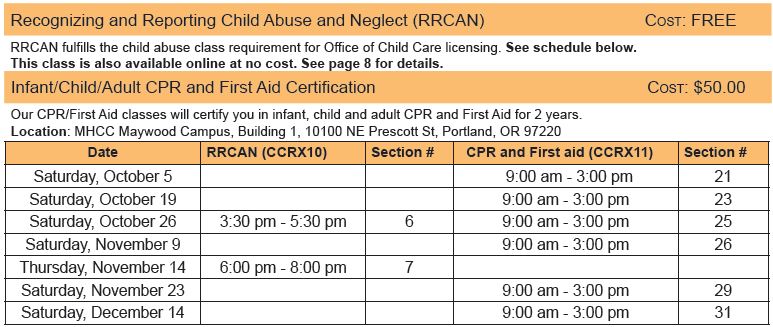 Upcoming English Dates:
Saturday, July 13, 9:00 – 11:00 am, Two hours, Course # CCRX10, Section 1
Saturday, September 28, 9:00 am – 12:00 pm. Course # CCRX10, Section 2 (This 3-hour version offers additional information on sexual abuse.)
Upcoming Spanish dates:
sábado, 21 de septiembre (9/21/19) 9:00 am – 12:00 pm, Curso # CCRX12, Sesión 2